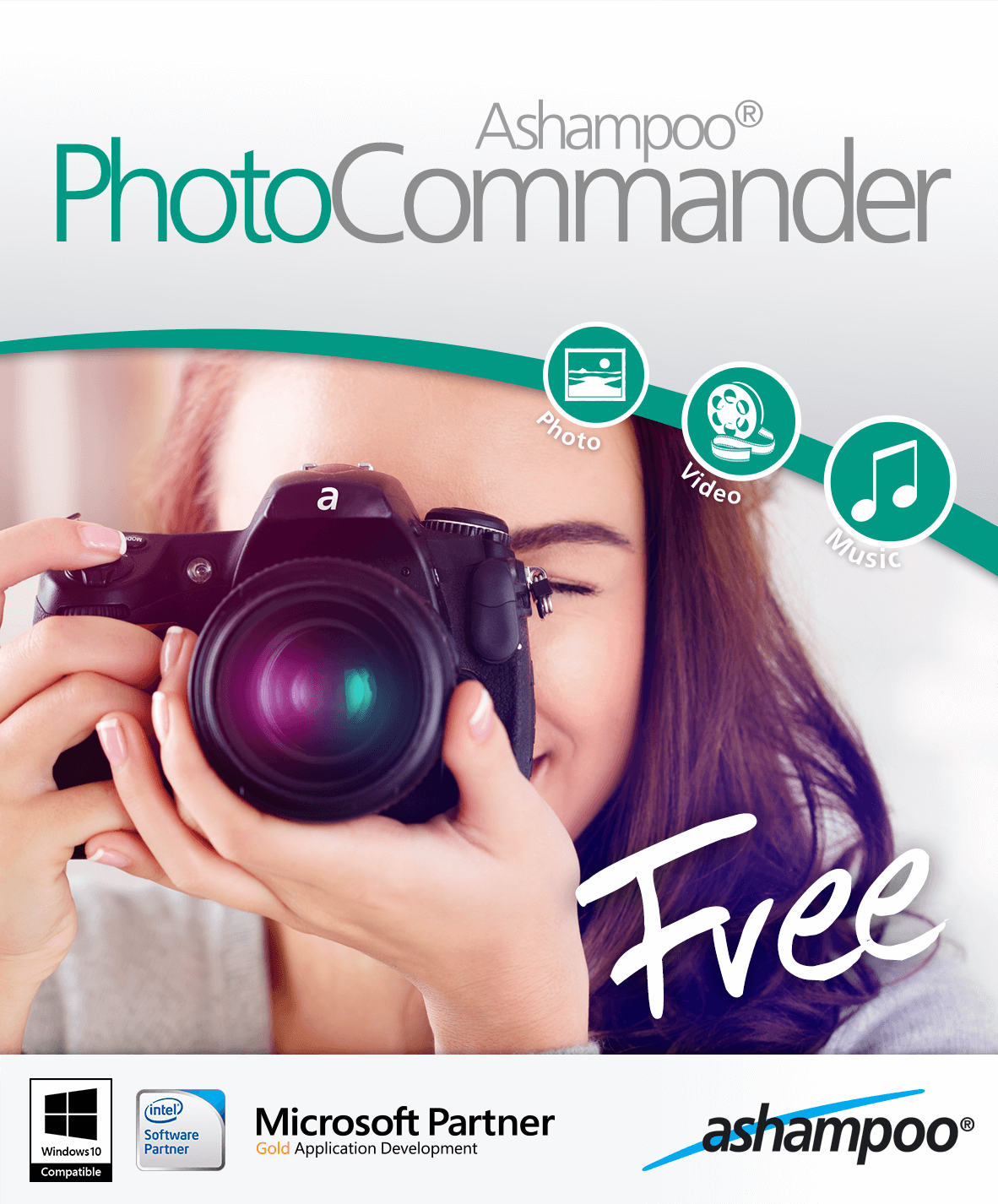 Ashampoo® Photo Commander FREE
Product info
Overview
Version: 11.2.0
ID: 1518
Release date: 2012/09/01
Update release date: 2016/04/06
Category: Multimedia Software
Pricing and languages
Languages: Arabic, Belorussian, British English, Catalan, Chinese (simplified), Chinese (traditional), Chinese (traditional), Czech, Danish, Dutch, English, Finnish, French, French, German, Hebrew, Hungarian, Italian, Japanese, Norwegian, Polish, Portuguese, Portuguese (Brazilian), Rumanian, Russian, Slovakian, Spanish, Swedish, Turkish, Ukrainian
Size: 98,00 MB
Program artwork and Ashampoo logo
Download mediapack
The media package contains all relevant graphics for use in your work. Aside from program artwork, it also includes our logo.
Download media package here
Highlights
Feature highlights::
- Manage, organize and browse your photo collection
- Work with intuitive wizards to achieve best results
- Save time and auto-adjust your images for maximum visual clarity
- Restore picture quality and remove noise, scratches and other unwanted objects
- Become creative with a myriad of brilliant image effects
- Turn your images into greeting cards, calendars or photo collages
- Upload your work to social networks or share your images through email
System requirements
Operating System
Windows 10, Windows 8 / 8.1, Windows 7
Requirements
Any device that supports the operating systems listed above.
Graphic card
1280x1024 - 100%
1600x1200 - 150%
2048x1536 - 200%
2560x2048 - 250%
Software:
Microsoft Visual C++ 2013 x86 Redistributable
Other
An Internet connection is required to activate the program. The program license is verified repeatedly at regular intervals.
Keywords
Free full version,Ashampoo Photo Commander, image management, image viewer, image editing, dual-view, EXIF, photos, digital photos, pictures, music, audio, video, film, media, multimedia, RAW, print, scan, camera, web album, management, presentation, optimization, slideshow, calendar, media database, digital, batch processing, tags, virtual album, HTML album, burn, organize, rename, sort, increase, decrease, crop, rotate, mirror, optimize