All-in-One Drive Monitoring Software
Stellar Drive Monitor is a powerful software that continuously checks the storage drive's overall performance. It detects and alerts the user about any anomaly on the hard drive.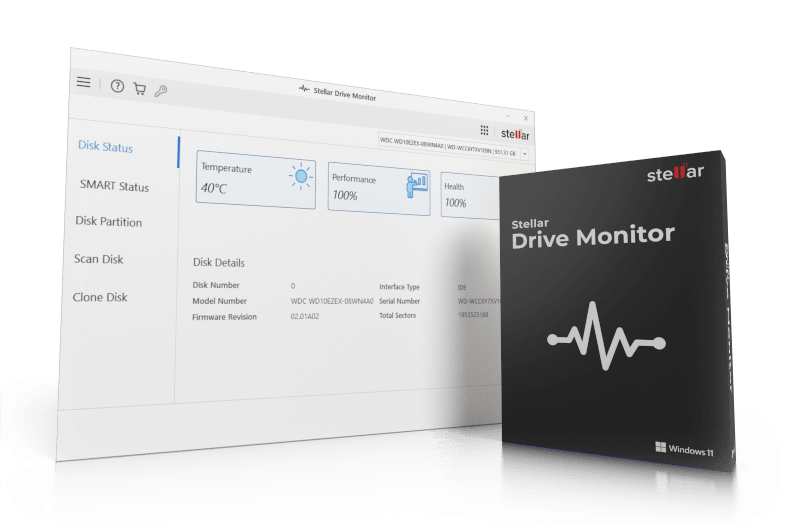 Diagnose issues in any PATA/SATA disk, USB hard drive, and SSD
Simple UI with easy-to-use functionalities
Provides real-time data on drive fitness
More Awesome Features
Simplified Disk Status Module

With a clean design, the Disk Status module of Stellar Drive Monitor serves as a user-friendly hard disk health check tool. This amazing hard disk health check software provides real-time information on the temperature, performance, and health of a drive.
SMART Status with Save Report Feature

This feature provides valuable information on all the SMART attributes related to the storage drive through seven data columns accompanied by a graphical representation for quick reference. It allows the user to save the report for future reference or comparative analysis of HDD health checks.
Easy-to-use Disk Partition Module

The software is not only a hard drive health check tool but also keeps an eye on each hard drive partition. It provides information like partition name, health status (healthy or failing), total storage capacity, free space as a percentage of total space, and more.
Scan Disk to identify Bad Sectors

Stellar Drive Monitor is a comprehensive hard drive health check tool that facilitates hard disk scanning for bad sectors. It thoroughly scans the selected drive to find any bad sector present on the drive. The software conducts a systematic hard drive bad sector check and displays them in a block table format.
Clone Drive to Create a Replica of the Drive

One more distinctive feature of Stellar Drive Monitor is the built-in disk cloning option. Users can easily create a replica of any drive by copying all the data to a target drive. This secures the data on the drive in case of a disk failure or other data loss scenarios.
Check fitness level of internal and external drives

Stellar Drive Monitor software is equally effective on internal and external storage drives on a Windows PC. It supports PATA/SATA disk, SSD, and USB hard drives of all sizes. The software shares a complete overview of the selected drive's fitness level. Further, it timely alerts users before hard drive failure occurs.