Take control of the weather in your photos!
Don't all vacation shots look somewhat the same? Blue sky, sunshine and white clouds - most photos are strikingly similar and quickly forgotten. Break new ground and take control of the weather in your shots! NATURE projects creates mesmerizing images with a vast collection of lighting and weather effects housed in an incredibly easy to use slider-driven interface for stunning results in just a few clicks!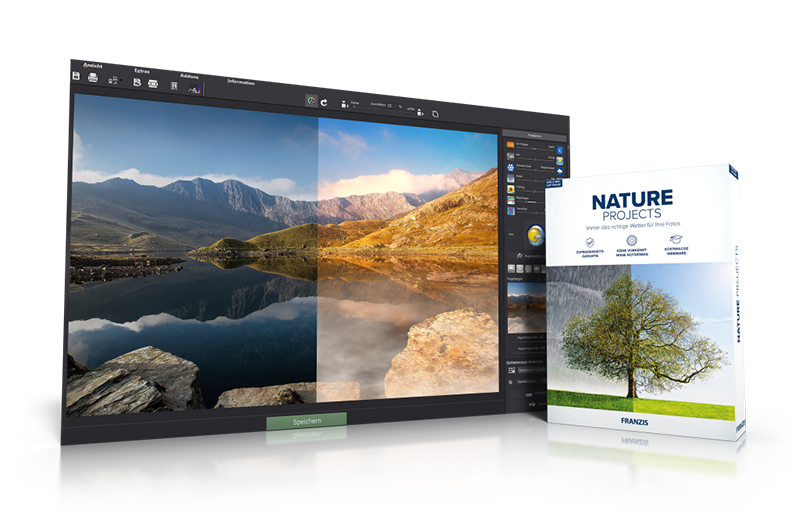 Create mesmerizing images with exciting and realistic weather effects
At morning & night
Dull & Sunny
Snow shower & Rain shower
Fog & Clear
Spring & Fall
Rainbow & Thunderstorm
Drift & Sandstorm
Benefit from the intelligent weather engine in NATURE projects
NATURE projects doesn't superimpose weather phemonmea, like lighting or fog, onto images as pre-defined graphics, but generates them with mathematical precision on the fly. The program adapts to your images and always produces optimal results. This means highly realistic effects without any repetition!
Be inspired!
NATURE projects can do so much more: Not only does the program create lightning effects but it provides suitable lighting in the form of dark skies and rain as well! The strength of these effects is fully and easily customizable through sliders to suit your needs. If needed, "Weather Randomizer" creates a random weather condition to provide an element of surprise. Change your weather at the click of a button!
Masterful atmosphere: NATURE projects does more than just weather effects
How often do you find your photos don't reflect the beautiful day as you remember it? Daytime, season and lighting have a huge impact on photographic results. Motif, composition and sharpness are not the only factors determining a great shot but lighting counts too. NATURE projects allows you to manipulate lighting conditions at the click of a button.
Includes free Adobe Photoshop and Lightroom plugin
NATURE projects weather assistant helps you create the perfect illusion with ease. 14 weather and daytime conditions are freely combinable and customizable!